Sieben Edmunds Miller has been awarded the Readers' Choice Award for Best Attorneys by the SUN ThisWeek newspaper's Burnsville/Eagan edition. The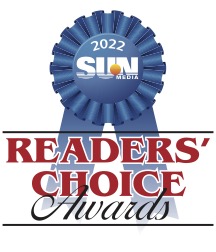 2022 winners represent select categories of businesses in the Burnsville/Eagan area. Businesses were nominated and voted on by local residents.This is the second consecutive year Sieben Edmunds Miller has been voted Best Attorneys!
"It is humbling to know the local community has once again chosen our firm to receive this award. It shows us that our approach is appreciated, and our clients are satisfied with the results of their case," said Kevin Sieben, co-founder and partner of Sieben Edmunds Miller.
A Community-Based Award
The SUN's 12th annual Readers' Choice Award contest was published online and in the SUN ThisWeek in the summer of 2021. Several categories were represented, including banking and financial, restaurants, health and beauty, education, attorneys, recreation, and more. Eagan residents chose Sieben Edmunds Miller to receive recognition as the city's Best Attorneys.
The firm's convenient location in Eagan is a big perk for residents of Eagan and Burnsville, and clients appreciate the team's dedication and aptitude. 
"Our legal experience is just one piece of the puzzle" said Samuel Edmunds, co-founder and partner at the firm. "Our job is also about getting to know each client and their goals. We want them to walk away from their criminal defense or personal injury case feeling like we achieved the best possible outcome."
"Helping our neighbors when they need us the most brings us a great sense of pride. We are thankful that our local community recognizes our dedication," added partner and personal injury lawyer, Michael Miller.
Committed to Serving the Community
Sieben Edmunds Miller will continue honoring its commitment to deliver legal services using their knowledge, experience, and tenacity to help serve criminal defense and personal injury clients throughout Minnesota and Wisconsin.
The SUN Newspapers will be publishing a special section with a list of all the winners on January 27th and 28th.