Sieben Edmunds Miller has been awarded the 2023 Readers' Choice Award for Best Attorneys by the SUN ThisWeek newspaper's Burnsville/Eagan edition. This is the third consecutive year the firm has received this award. The 13th annual Readers' Choice Award is a contest that was published online and in the SUN Newspapers in July and August of 2022. Readers voted for their favorite service providers, medical professionals, shopping, restaurants, and more with a fill-in-the blank ballot.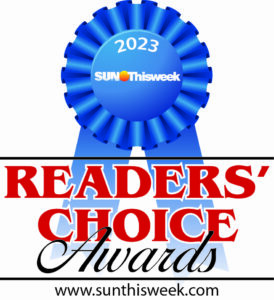 "It's such an honor to be selected for this award three years in a row. We are humbled to see that our dedication to our clients has earned us the respect of our local community," said Kevin Sieben, co-founder and partner of Sieben Edmunds Miller.
Making An Ongoing Commitment to Our Community
Our goal has always been to offer competent and compassionate legal services to help our clients achieve positive results and substantial settlements. We're pleased to see that hard work pays off, both for the firm and for our many satisfied clients. 
"We are proud to be a local Dakota County law firm. It allows us to focus on helping great clients that are also our neighbors," said Samuel Edmunds, co-founder and partner at the firm. 
"Helping our neighbors when they need us the most brings us such a sense of pride. We're so thankful that our local community recognizes our dedication. We will certainly continue our personal approach to litigation so we can maintain that trust," added partner and personal injury lawyer, Michael Miller.
The attorneys at Sieben Edmunds Miller will continue honoring our commitment to deliver legal services using our knowledge, experience, and tenacity. We remain dedicated to serving criminal defense and personal injury clients in Minnesota and Wisconsin by achieving positive results and substantial settlements.