Valerie's Winning Essay: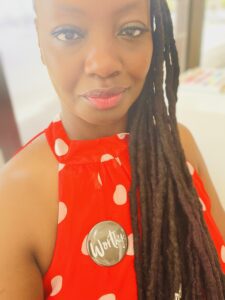 As a first generation law student, I am committed to ensuring that equality and equity is universal for all. In the pursuit of this goal, in the past two years, I have expounded upon my career expertise by addressing legal issues such as restoration of voting rights and criminal expungement which disproportionately impact the Black community nationwide.
I recently completed an Access to Justice internship with Mitchell Hamline School of Law focusing on creating a technological application which assists disenfranchised citizens from Kentucky with the restoration of voting rights application. Because of a legal access gap, many citizens with criminal records are unaware or not equipped with the resources to complete the state's application. The project that I had created allows a citizen to answer a few questions which auto populates and emails the application to the state department in Kentucky from any mobile device. While this may seem trivial and miniscule to some, such processes are often intimidating, purposefully so, and cause applicants to forgo the act of voting. The numbers tell the story. There are over 1.5 million disenfranchised American voters. While the start of my project begins with Kentucky, my aim and lifelong commitment is to positively impact the livelihood and concerns of people of color via legal knowledge and avenues.
In addition, I am currently working as an extern with the Conviction Review Unit at the Minnesota Attorney General's office. This department seeks to identify, remedy, and prevent wrongful convictions and develop policy proposals to address the most frequently identified causes of wrongful convictions.
Once I complete my law degree, I desire to continue my legal endeavors as a prosecutor. It is imperative that both criminal defense and prosecution teams include diversity and represent demographics which are disproportionately incarcerated. As a prosecutor, my intention will be to diminish cases of excessive prosecutorial bias and implement more restorative justice principles in an effort to curb mass incarceration. While these are lofty aspirations, change is past due in the application of justice among the minority and people of color demographic. Such a monumental shift can not be accomplished from the outside. Magnificent effort must come from the abolition of archaic legal behaviors and police philosophies. This is where I hope to have the greatest impact.